Klik hier voor de Nederlandse pagina
UPDATE: Registration/Enrollment is closed for this event!
Dear interested parties,
Welcome on the enrollment page for our first great event in the world of "Duister Gent 2.0"!
Players of our monthly game can simply enroll and participate with their characters, reaping all the benefits and consequences the evening brings for them. These will carry over to our monthly sessions.
For participants who do not yet have a character with us, we offer a range of possibilities. All non-player characters are so-called LPC's, or Limited Player Characters.
For those wondering: "What in Cain's name is an LPC?!" Please allow me to explain what an LPC exactly is.
An LPC is a character that is fully fleshed out for a specific purpose. A bit similar to an NPC but with much more freedom to do as they wish, as long as some aspects are kept in mind. Each LPC character will be specifically created for the event in coöperation with it's player. They will have a short background story, secrets and reasons for their presence on the night in question. Some names will be familiar to our players, other won't.
At the end of the evening we will ask all LPC's to bring us their character sheet back, with the results of their evening noted on the backside of the paper. This information will then be processed into the results of the event and will strongly influence the world in which our players move. It will also have an impact on the events for the next year.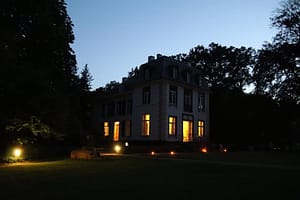 Our event will be held at the Castle "Hoogveld" in Zedelgem, Belgium. This mansion is located at less than 2 km of the railway station and is, as such easily accessible through public transport. Do keep in mind however that there are no trains at night.
Because Zedelgem is for some a rather long drive, we have arranged approximately 16 sleeping spots within the mansion itself. These can be reserved at a small additional fee. When you reserve a sleeping spot, breakfast is included. All spots, both playerspots and sleeping spots, are handed out at a "first come, first served" basis.
For this evening there will be a strict dress code enforced. Those that do not comply will not be given access to the location by our in character security forces. The chosen theme for the night will be "ballroom clothing".
Keep in mind that we are playing during a winter evening, so it may be cold. Especially on the outdoor locations, if weather permits to use them.
"Ballroom clothing" can be interpreted broadly, afterall we are playing in a World of Darkness, which is heavily gothic and punk inspired. The term "ballroom clothing" will also differ wildly between clans.
Examples will be available largely beforehand and if you have any doubt whatsoever if a certain piece of your clothing would be acceptable, feel free to contact anyone on the Storytelling team through any means you wish.
Short summary:
When:
11 Juni 2022
You are welcome starting at 5pm
Game starts at 7pm sharp and will end at approximately 2.30am.
Location:
Castle Hoogveld,
Hoogveld 4,
Zedelgem
Belgium
Player spots:
Only 100 characters can be present, including LPC's
Sleeping spots:
Only 16 spots available!